Marble Polishing & Cleaning in Little Neck
Give your marble a new look
We at Johnnystonework can take care of your marble properly. Whether your marble needs a light or heavy grinding and polishing, cleaning or restoring, we are ready to create its pre-damaged state as fast as possible. Let our professionals take care of your marble and we will leave you fully satisfied.
Why Hire us for Marble Polishing, Cleaning or Restoring
Johnnystonework is a trusted source when it comes to taking care of your marble. Our Marble Cleaning Little Neck is a perfect solution to transform your dull marble. We offer the best marble cleaning services for the finish you love. Marble floors are porous so they can easily get discolored by water, food spills and oil damages. Cleaning the surface immediately is the best decision to remove stains from your marble floor. Our Marble Cleaning Little Neck is professional and based on the highest level of standards. Avoid using cheap detergents to clean marble floors and hire our expert team as we use only high-quality and gentle cleansers.
Get a estimate in minutes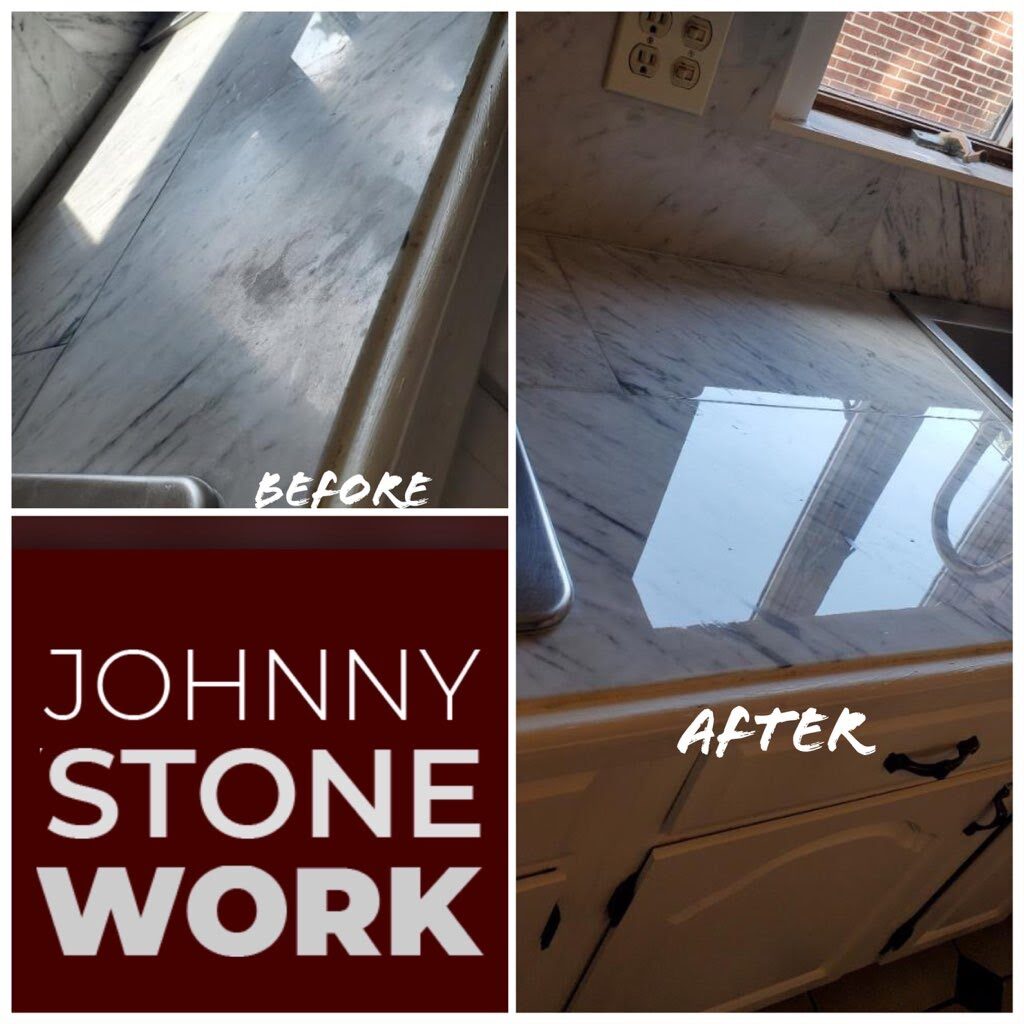 Marble cleaning that we offer also makes polishing the stone easier. If your marble has scratches, we highly advise to hire us for Marble Polishing Little Neck. Polishing is the best way to restore your marble floor's dull appearance. You can hire us with confidence to polish your marble tiles and maintain their natural look and beautiful shine. Here are some of the most stunning benefits Marble Polishing Little Neck guarantees:
Improved density
Increased durability
Stunning aesthetic appeal
Reduction in bacterial and fungal growth
If you also need Marble Restoration Little Neck you can count on us. Our professionals are able to restore the former beauty of your marble floors. We are one of the highest-rated natural stone restoration companies in Little Neck, so you can call us whenever you need. Not every scuff, scratch, chip, or wear mark can be polished away perfectly. To restore a piece of marble to its original appearance, you need our Marble Restoration Little Neck. Marble restoration is a reliable way to make floors look like new, without actually having to pay for new floors. Sounds amazing, doesn't it? All of our clients feel satisfied with the results, so hurry up to call us and let's start your project.
Give visitors a gleaming first impression. Call (347) 507-2338 Now
Get a free estimate on marble cleaning services by contacting us today in Astoria, Long Island & Manhattan, NY.
Why Hire us for Marble Polishing, Cleaning or Restoring
We are also specialists when it comes to Tub Resurfacing Little Neck. If your bathtub has an ugly color and looks damaged, just let us make it look and feel like new. Tub Resurfacing Little Neck is affordable enough so trust our trained technicians whenever you need it. We take pride in our high-quality tub resurfacing work. We can effectively extend the life of your tub and restore all types of tubs.
Grout repair Little Neck is also one of many services we deliver. If you want to keep the tile you love for longer, rely on our grout repair service. We ensure to extend the life of our clients' tiled surfaces. Grout repair Little Neck is a great solution for you to save your money and time.
Schedule an appointment today and hire us to take care of the job.