Make your Marble surfaces look brand new!
Marble & Stone Restoration New York
Marble adds a touch of elegance to any room, but it requires professional maintenance to preserve its beauty. At Johnnystonework, we pride ourselves on following the best standards and providing a special approach to each project. As a top Marble Restoration Company New York, we are dedicated to delivering outstanding results.
Our service technicians are highly trained and have years of experience working with every type of natural stone, including marble. With our expert techniques and attention to detail, we guarantee the best possible outcome for your marble and other natural stone restoration needs. Our commitment to excellence sets us apart from the competition, and we are always available to discuss your project and provide a free estimate.
Don't hesitate to contact us whenever you need  Stone And Marble Restoration NY. We are here to help and ensure your satisfaction with our work.
Get a estimate in minutes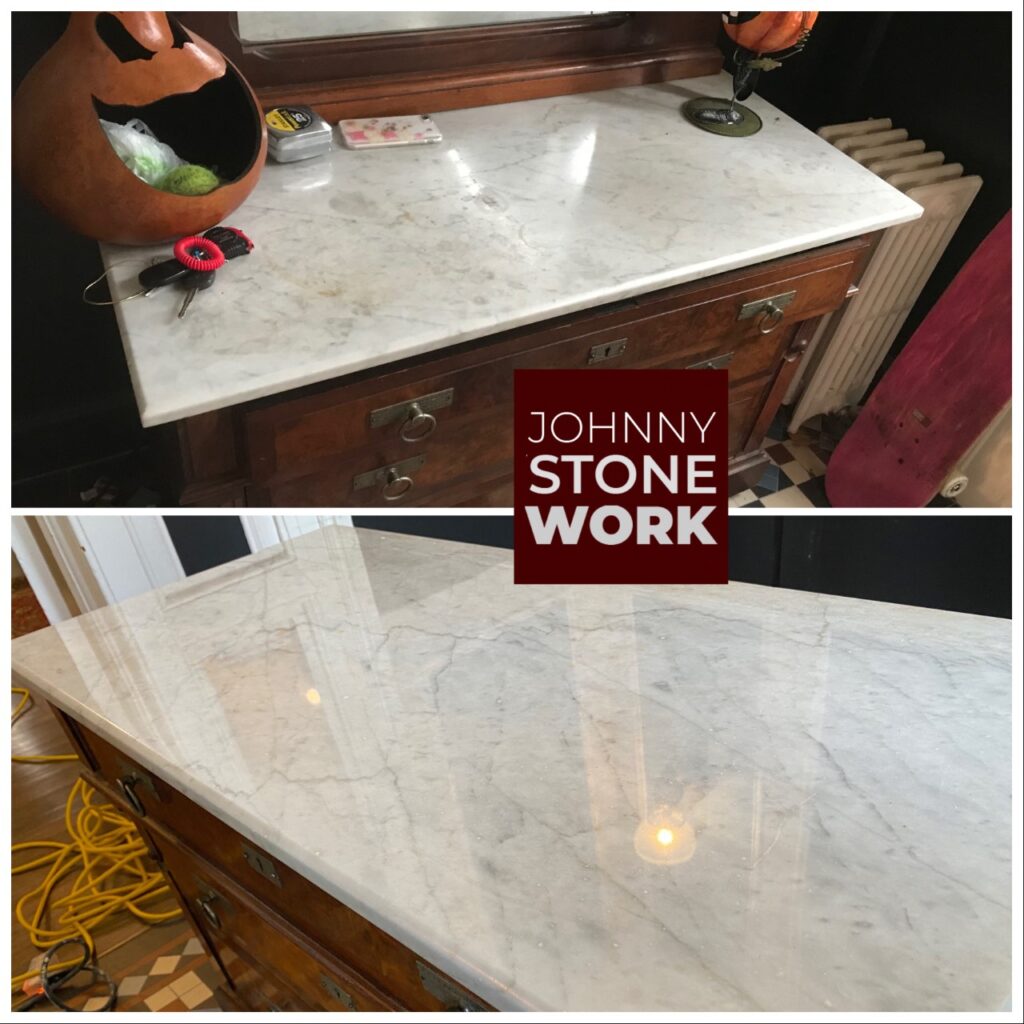 The Process Of Classic Marble And Stone Restoration NY
Inspection: Our team will inspect the Marble Stone Restoration surface. We will identify any damage, stains, scratches, or wear and assess the best course of action for restoration.
Cleaning: We will first clean the stone surface using a specialized cleaner to remove any dirt, grime, or other contaminants.
Repair: If there are any cracks or chips, we will repair them using a specialized filler or epoxy to restore the stone to its original smoothness.
Restoration: Depending on the condition of the stone, we will use various techniques to restore its surface. These may include honing, grinding, polishing, or buffing to remove scratches, stains, and etches and restore the stone's shine.
Sealing: Once the stone surface is restored, we recommend sealing it with a protective sealer to help prevent future damage or staining. Our team of experts will use the latest equipment, techniques, and products throughout the process to ensure that your marble or stone is restored to its original beauty. We strive to exceed our customer's expectations with every project.
Give visitors a gleaming first impression. Call (347) 507-2338 Now
To schedule marble restoration services in the Astoria, Long Island & Manhattan, NY area.
At our company, we take pride in offering  affordable Marble Restoration Services. Our restoration process begins with a thorough inspection of the stone surface to be restored. After assessing the condition of the stone, we determine the most appropriate method for restoration.
For severely damaged stone, we may need to remove the old finish completely and start from scratch. However, in most cases, Marble Cleaning And Restoration Ny is sufficient. Our team of Nyc Marble Care experts uses a variety of techniques and tools to achieve the desired results. Some of the methods we employ include sanding, honing, grinding, and chemical treatment.
We ensure that our restoration methods are safe and effective, and our team works diligently to deliver excellent results. Whether you need  Marble Refinishing Manhattan, we are here to help. Contact us today to discuss your project and get a free estimate.
You Can Gain A Number Of Benefits If You Opt For Stone Restoration NYC.
It can help you improve the appearance of the stone. It will look like new again.
You will increase the value of your home.
Marble Restoration Companies can help to protect stone from further damage.
It can help you improve the appearance of the stone. It will look like new again.
You will increase the value of your home.
Marble restoration NYC can help to protect stone from further damage.
The restoration will extend the lifespan of marble
It will prevent costly repairs in the future.
Trust our Marble Restorer NY because he is specialized in repairing marble. The whole staff is professional enough and can help you get rid of light spots and scratches. We also offer  Marble Countertop Restoration NY at reasonable rates. Trust our expertise and we will exceed your expectations. Our company serves both the kitchen and bathroom remodeling needs of residential and commercial clients. Everything is based upon request.
You can expect the following process if you deal with us to restore the natural beauty of your marble stone. First we discuss the project with our clients. This helps us to assess the condition of your stone. We will then provide you with a suitable quote for the restoration process. If you approve the quote, we start the process by cleaning and etching the surface to create a good bonding surface for the new sealer. After that, we apply a penetrating sealer which helps reduce absorption and prevents cracking. The duration of our restoration process typically depends on the size of the property. Just contact us and let us leave your home looking like new again.